"Life can be much broader once you discover one simple fact, and that is, everything around you that you call life was made up by people that were no smarter than you…. The minute that you understand that you can poke life … that you can change it, you can mould it … that's maybe the most important thing."

-Steve Jobs
After school last week, I called my friend Kylie, who I was supposed to visit in a few hours.
"My mom and I are heading off to Malibu right now…. Well, actually, feel free to come with us! The backseat is a little small, though…."
"That sounds way more fun that going home to sleep like I was planning to! I'm at my school's parking lot, see you soon!" I joyfully said and hung up.
After a few minutes' time, an old 70′s Mercedes convertible whipped through our parking lot and it took me a moment to register that I was supposed to get in it. My friend and her mom called out to me, and I hopped into a pathetic excuse for a backseat. It looked like a small hole behind the driver's seat.
We drove off and people from my school kept waving to me and yelling things. It was fun, but I thought the attention was kind of weird. Before I registered what was happening, we were going seventy miles per hour on the freeway. The dry air whipped into my whole body, and it simultaneously froze me with fear and lit me up with excitement.
But after fifteen minutes or so when the novelty wore off a little, I had one of my routine philosophical panic attacks.
"The ritual of driving is so strange," I thought. "People just close their windows, listen to the radio, space out, think about their problems, talk on the phone, think of vacations they'd like to take and whatnot…. It's so isolating."
Would people scream at each other for being "dumb fucking drivers" if they were all in convertibles? Probably not. But for once on this little venture, I was pretty conspicuous. For the first time I felt aware what was happening: the people in the moving metal boxes all saw me as well as I saw them. I'm sure it was entirely due to the situation being sort of funny-looking and probably slightly and unsafe and illegal, but whatever works.
Living in Los Angeles, where everything is a drive away, this human-made system of driving is particularly significant. Everything in our world was constructed through preconceived human decision-making. We are born into a world where our large-scale political systems, social conventions, cultures, and languages are all created for us. These ideals are constantly shifting and changing and crashing and rebuilding – nothing about it feels concrete.
But then there's nature. On this drive to Malibu, we were deliberately going out to the "natural" world. Nature in my metropolitan world is treated as the "other" place to go. People often say that they are either a city person or an outdoorsy person, as though it is one or the other. Allow me to challenge this notion, though. Perhaps everything we strive to create has been here all along, and we altogether overlooked it.
(by Laurence Philomene)
I stepped out of the car at the yuppie open-air market in Malibu, stretched my legs, and sat under a large olive tree. It was more or less the middle of the day, and the dappled circles of sunlight surrounded me. It was a moment not only of physical relief, but also of visual beauty. Orbs of dappled sunlight are perceived as little, pretty lights for a reason, though. Did you know that the small circles of dappled sunlight are actually individual pinhole images of the sun? In essence, each orb is a perfect projection of the sun. This principle of optical physics says that any pinhole will flip light through it upside-down and backwards and project it through the other side. This is the science behind how all cameras work; all you really need to make a camera is a box with a hole in it and some film. There, a concrete basis behind photography.
Then Kylie and I started down the path to the beach. We turned and saw a particularly pleasing wildflower to our left. I normally leave flowers alone, but I picked it with a faint motivation to give it to Kylie's mom as a present. There are underlying reasons behind why it appealed to me, though. I'll focus on two of them: color and layout.
It was a yellow flower with bits of purple. Any artist would shout out, "Well duh, those are complimentary colors!" But looking at these phenomena even closer, one can see that complimentary colors are not random. One researcher in this field, biophysicist Pupa Gilbert, says that, "The complementary pairs we learned aren't real physical complements. True complementary colors are two colors whose combined wavelengths span the whole visible spectrum, creating white." There, a concrete basis behind color theory.
Now the layout: this particular flower had a large outer petal with a small inner chamber. To be more specific, this flower followed the mathematical principle of The Golden Ratio. In 300 BC, Euclid defined this ratio in his book, Elements. This specific ratio (equal to about 1.618) represents an aesthetically pleasing design plan that artists, architects, musicians and designers have used since the Renaissance to create aesthetically pleasing designs. This ratio is not random, though – it turns out that the natural world is already designed with this ratio. For example, psychologist Adolf Zeising found the golden ratio manifested in veins of leaves, animal skeletal systems, connections between veins and nerves, and even the geometry of crystals. There, a concrete basis behind composition.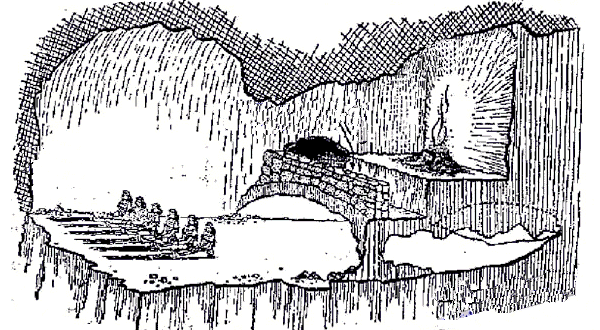 I could go on with what we saw on our walk on the beach, but it becomes exhausting to analyze every reaction in this way. One pattern stands out clearly from this questioning, though: our very beings are in sync with the animals, plants, rocks, mountains, lakes, and skies. This nature is what we were created from, but many are ambivalent towards it. It is the foundation of what our whole world is based on. Nature provides us with ways to design cameras, to create energy, to reproduce, to breathe underwater, and even to fly. There is nothing out of the realm of possibility that hasn't already been done before. In fact, there is a relatively new field of research known as biomimicry that works to look at nature and learn the processes behind what it does. For example, in the crucial case of energy production, one might address the fossil fuel crisis. A scientist of biomimicry would look to nature for answers, rather than turning to abstract physical science. It is easy to see that plants and animals are in a system that allows for sustainable living. All of our fellow beings gain energy from other natural beings that once had life, and we are in harmony. Perhaps our answers hide directly in view.
So perhaps the next time you come across a way of doing something that you find strange, look at it both up close and from afar. Natural patterns will pop up, intersect, and weave in and out. Plato once wrote in his famous Allegory of the Cave that people are born chained in a cave and forced to see projections of life. If these people can realize there is a natural world outside the cave and escape, they can finally see the truth.